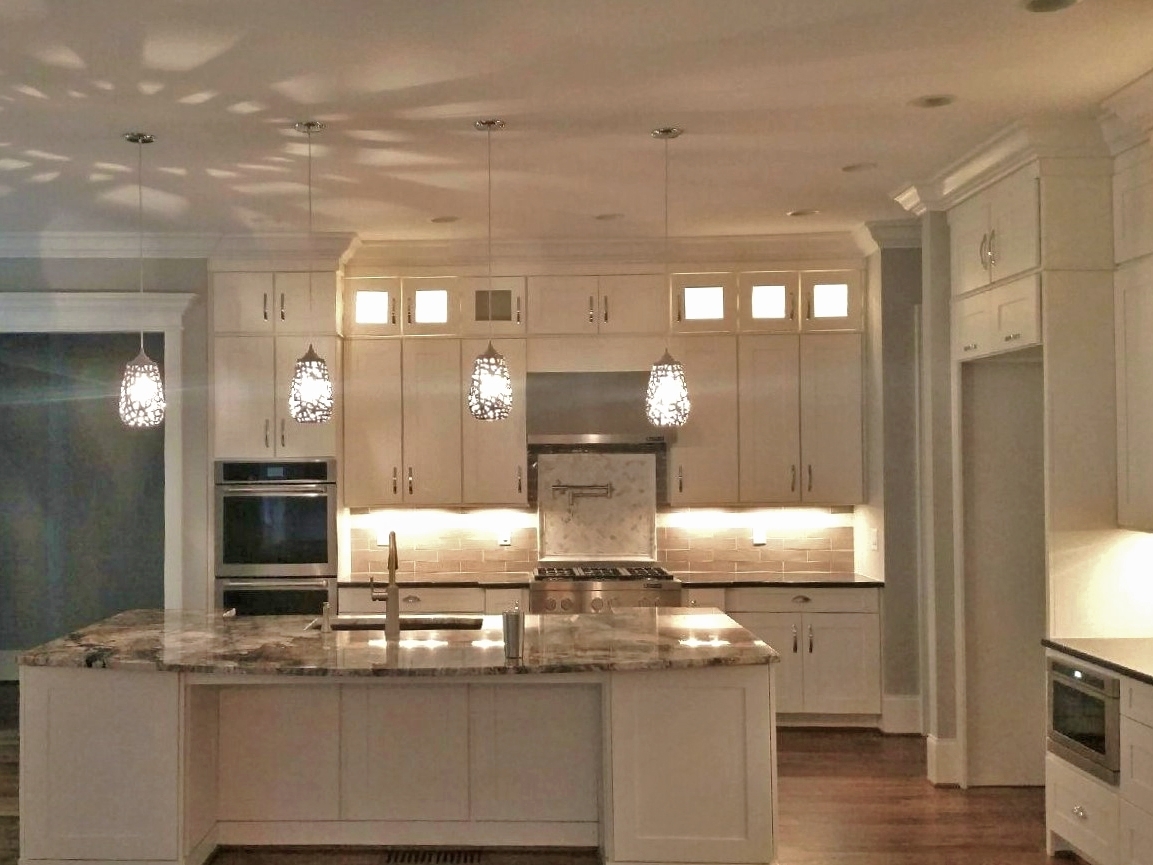 KITCHENS
Woodmaster Woodworks specializes in kitchen designs ranging from fully custom, manufactured and hybrid cabinet options. Custom cabinets are created especially for you and your family. Cabinetry that is not only beautiful, but also functional; a cabinet that has been handcrafted to the highest standard of quality.
To see our manufactured options, click here.

Choose Your Style of Cabinets
Look on Houzz, Pinterest, HGTV and magazines to find the style you like. Stock cabinets come in a limited number of styles, whereas semi-custom and custom cabinets offer more choices. Choose a style that belds well with your home as well as the interior design of the other rooms. You can choose natural wood finish in a number of colors and woods, painted & stained.
Custom cabinets are built to exact specifications and offer endless options with regard to materials, designs, finishes and accessories.
Consider the construction type and door style. Framed cabinets, which are popular in traditional kitchens, have a front-frame around the cabinet opening. The door attaches to the frame. Frameless or European-style cabinets, which are often used in contemporary kitchens, offer an advantage over framed cabinets. Because there is no front frame, there is an open access to the cabinet interior.
When it comes to door styles, there are several choices. Traditional-overlay doors cover some of the frame. Full-overlay doors cover the entire cabinet frame. Inset doors sit inside the cabinet frame.
After giving thought to the cabinets' exterior, turn some attention to their intended use and interior features. Pullout drawers for pots and pans, oversized drawers for baking sheets and designated cabinets for trash and recycling are some examples.
Accessories like Lazy Susans, built-in spice racks, drawer organizers and other cabinet extras make the kitchen much more efficient and enjoyable.
As a finishing touch, add pulls, knobs and handles to cabinets. Hardware comes in a wide variety of styles at all price points and contributes to a truly customized look.
Regardless of the cabinet colors/stains you choose for your home, there are an endless amount of finishes to the hardware you're able to choose from.
To see more hardware options, visit Hardware Resources.
We're ready to design and build your next project.